Hey! My name is Caleb Burks and I'll just admit from the start that I'm a WordPress fanboy. Half of my t-shirt wardrobe consists of WordPress, WordCamp, WooCommerce, SiteGround, and WPengine shirts! Well, in all honesty, that's actually about 99% of my closet.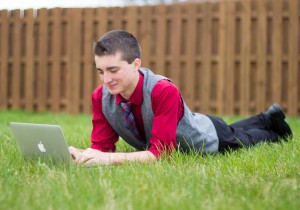 I've been using WordPress since 2008 and started in custom theme development a couple years later. Since then, I have created a handful of custom themes and quite a few plugins. You can view some of them on my WordPress and GitHub profiles.
I started my career as a freelancer building websites, then began developing custom themes for agencies. I enjoyed building themes a lot and thought my foreseeable future would be in custom theming. But then an awesome opportunity from an awesome company came along.
That company was WooThemes and the opportunity was to be a WooCommerce Ninja. I never imagined working anywhere else after a few weeks on the job at Woo – everything was perfect and exciting. Fast forward a few months, and news came that we were joining Automattic! So now I'm an Automattician and WooCommerce Ninja. Working with Woo and Automattic at the same time is definitely getting the best of both worlds. I basically get paid to have fun and learn new things everyday. If that sounds interesting to you, then you should definitely apply 🙂
About this site
I'm sure you have already noticed, but you are currently on my website/blog. This blog will typically consist of WooCommerce tips and tricks, along with the occasional tutorial and guide. I'm happy to help in any way I can, so feel free to submit an idea for my next blog post!
This website is using a theme called WC Ninja, which is just a child theme I created with a few modifications on the awesome Storefront theme by Jay Koster. And here is a list of plugins I am using on the site:
Akismet – Automattic
Easy Github Gist Shortcodes – Remi Corson
Jetpack – Automattic
Prism Text Highlighting – Me
Recent Tweets – Noah Kagan
Wapuuvatar – Lee Willis
Yoast SEO – Joost de Valk